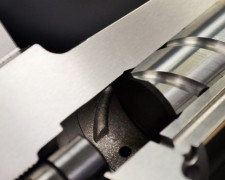 TAVARES, Fla., June 15, 2021 (Newswire.com) - GWS Tool Group, an industry leader in custom cutting tool manufacturing, and Haimer USA, a global market leader in tool-holding technology, have recently signed a U.S. licensing agreement for HAIMER's patented Safe-Lock™ anti-pullout system.
Brendt Holden, President of Haimer USA, states, "We are very happy to have formed a partnership with GWS, undoubtedly one of the fastest-growing cutting tool manufacturers in the business. Their high-quality milling solutions are perfectly suited for the HAIMER Safe-Lock™ system. I fully believe GWS aerospace customers will welcome the security, balance, and precision of the Safe-Lock™ System that will ultimately ensure they can maximize their productivity."
"At GWS, the Custom Comes Standard mantra is meant to encapsulate how we deliver our dynamic value proposition to the marketplace," says GWS CEO, Rick McIntyre. "We lead with our ability to serve as a single-source supplier for virtually all custom-tooling needs, which we design and build in one of our many factories. Partnering with HAIMER to provide the industry standard in pullout protection, Safe-Lock™, further strengthens our ability to deliver optimized milling solutions to our customers."
Since its creation, the Safe-Lock™ system has continued to grow rapidly in the U.S. market across all industrial sectors. The success of the system has largely been fueled by its popularity as more and more manufacturers recognize increased productivity due to the pullout protection Safe-Lock™ provides. Safe-Lock™, which emerged from the requirements of heavy-duty machining, initially made a name for itself in the aerospace and energy industries. However, cost and time savings are not solely restricted to typical aerospace applications and have also been found in typical milling applications. In particular, the increase in customers utilizing the modern high-efficiency dynamic milling strategies available from the CAM software companies, have found Safe-Lock™ to be an absolute necessity. For more on Safe-Lock™, visit www.haimer.com.
Founded in 2014, GWS Tool Group has been on an accelerated path toward the consolidation of the North American cutting tool market. Having effected a series of acquisitions since that time, GWS has positioned itself as the premier multi-disciplinary, custom-first cutting tool manufacturer in the industry. For more information on GWS Tool Group and its always-evolving offering, please visit www.GWSToolGroup.com.
Source: GWS Tool Group
Share: