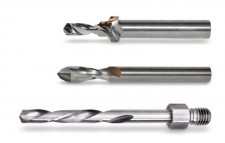 The acquisition of Intrepid extends geographic reach and custom product capability, further entrenching GWS as a leading custom tooling provider in North America.
TAVARES, Fla., January 7, 2020 (Newswire.com) - GWS Tool Group is pleased to announce it has acquired Intrepid Tool Industries ("Intrepid"). Intrepid is the first add-on acquisition in 2020 for GWS.
Located near Phoenix with approximately 100 employees and operating out of a 35,000 sf facility, Intrepid is a leading provider of carbide, HSS and PCD cutting tools to the aerospace sector, with a special emphasis on threaded-shank and/or brazed construction drills, reamers and countersinks. Intrepid's product mix and capabilities align perfectly with that of the GWS go-to-market strategy. With the addition of Intrepid, GWS further solidifies its position as the premier multi-disciplinary manufacturer of high-performance cutting tools in the marketplace today.
"Intrepid could not have been a better fit for our organization," said Rick McIntyre, GWS' CEO. "In addition to this investment establishing a substantial physical presence on the west coast on which to further build, their industry-leading product and service portfolio is the perfect complement to our already dynamic offering. With acquisitions like Intrepid, we continue to get very close to there being nothing within the cutting tool supply chain we can't address with some of the most precision products in the world," McIntyre continued.
"I am very excited for Intrepid Tool to be joining GWS Tool Group," said Bret Tayne, founder and President of Intrepid Tool. "The leadership of GWS Tool Group is the most dynamic and energetic team in the industry. This combination with GWS Tool Group serves the interests of all constituencies of Intrepid Tool, from customers to vendors to employees. We are proud to be joining such a talented organization."
The continued expansion of GWS by way of acquisitions and constant investment in world-class technology, people and equipment has created an unmatched value proposition for customers operating in advanced machining environments, especially in the area of custom tooling. GWS remains committed to the expansion of this value proposition and expects to continue to demonstrate this commitment through continued investment in the core business unit in addition to highly strategic follow on acquisitions.
About GWS Tool Group
GWS Tool Group is a US-based, vertically integrated manufacturer of highly engineered custom, standard, and modified standard cutting tools, primarily servicing the aerospace and defense, power generation, automotive and medical sectors. GWS Tool Group has acquired multiple businesses in the course of its growth which now serve as the respective manufacturing divisions for the Company.
For more information, please visit www.GWSToolGroup.com or contact Drew Strauchen, EVP of Marketing & Business Development for GWS Tool Group, at drew@gwstoolgroup.com or 877.497.8665.
For additional information, please visit www.gwstoolgroup.com
Source: GWS Tool Group
Share: