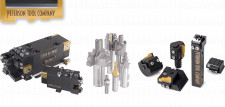 The acquisition of Peterson Tool Company strengthens GWS's capability in the arena of custom tooling for the screw machine industry and specialty turning applications. The capability to produce machine-specific custom insert tooling solutions blends seamlessly with GWS's current specialized insert production expertise to create another unique productivity enhancement resource for GWS customers.
TAVARES, Fla., May 12, 2022 (Newswire.com) - GWS Tool Group is pleased to announce it has reached an agreement to acquire Peterson Tool Company. The transaction is subject to customary regulatory approvals and closing conditions.
Located in Nashville, Tennessee, Peterson Tool Company is committed to providing the most precise and carefully engineered carbide tools in the world. With over 60 years in business, PTC is committed to delivering high-quality application-specific tooling solutions in less time than anticipated with a value far greater than expected. PTC's name in quality and ingenuity is supported by in-house manufacturing areas that include engineering and design, EDM, machining, grinding, round tool grinding, quality control, and shipping.
"Peterson Tool Company has tremendous expertise in providing custom tooling solutions," said Rick McIntyre, GWS's CEO. "Their unique approach to engineered form tool technology perfectly aligns with the GWS 'Custom Comes Standard' mantra," McIntyre continued.
"I am very excited for Peterson Tool Company to be joining GWS Tool Group," said Diane Peterson Edwards, President and CEO of Peterson Tool. "Our customer-centric strategy with emphasis on custom engineered solutions could not align more closely with that of GWS and knowing that our highly skilled employees will be part of a renowned brand is truly gratifying. Our work holding and machine-optimized tooling capability will complement the cutting tool capability of GWS in a way that will undoubtedly increase value for our customers and fuel future growth for years to come."
This is the first acquisition by GWS in 2022 after an incredibly active 2021 wherein five add-on acquisitions were effected. This is also the first add-on acquisition by GWS since joining Walter and the Sandvik family of companies in December 2021, and signals an intent to continue with an aggressive M&A plan that has made GWS so successful in its growth ambitions in recent years. The continued expansion of GWS by way of acquisitions and constant investment in world-class technology, equipment and, most importantly, people has created a compelling value proposition for customers operating in advanced machining environments, especially in the areas of custom round and insert tooling.
About GWS Tool Group
GWS Tool Group is a North American-based, vertically integrated manufacturer of highly engineered custom, standard, and modified standard cutting tools, primarily servicing the aerospace and defense, power generation, automotive and medical sectors. GWS has acquired multiple businesses in the course of its growth that now serve as the respective manufacturing divisions for the company.
For more information, please visit www.GWSToolGroup.com or contact Drew Strauchen, EVP of Marketing & Business Development, at 877.497.8665.
Source: GWS Tool Group
Share: